PRICING IN THE FASHION INDUSTRY
The high-street has led us to believe that a t-shirt should cost £5. Sometimes less, sometimes a tiny bit more. Pricing in the fashion industry is a mess – there has been many times when I have been on the lookout for sustainable options to add to my wardrobe and found myself wincing at the prices. As someone who has struggled in their break-up with fast fashion it can be hard to justify spending £30+ on a simple, wardrobe classic. But why is there such a difference in price between the high-street (read: fast fashion brands) and sustainably and ethically run businesses?
MATERIALS IN THE FASHION INDUSTRY
A key factor in the cost of sustainable clothing is the materials used to produce the garments. Oftentimes sustainable fashion brands have spent a lot of time sourcing fabrics that are ethical and sustainable. Sourcing fabrics that will have a positive impact on the planet, as well as supporting the workers in the factories where they are produced all contribute to a higher price. Fabric is generally a higher quality than those you will find on a hanger in Primark – meaning the end product is always going to be more expensive because it has been made and produced from a higher standard of materials. 
High price points within the luxury sector may lead people into thinking that luxury, couture brands consider the environmental and societal impacts of their practises. However, we must remember that whilst their products are at very high price points – they also abuse the system. 
According to Imran Amed, founder and Chief Executive of Business of Fashion writing for The New York Times, "Luxury labels like Dior and Saint Laurent often turn to subcontractors in India for the production of intricate embroideries and embellishments at lower costs. The highly skilled artisans hired to do the job receive little credit or money for their work. In fact, some hiring companies will often carry out the garments' final assembly in Europe and misleadingly label them as "Made in Italy" or "Made in France."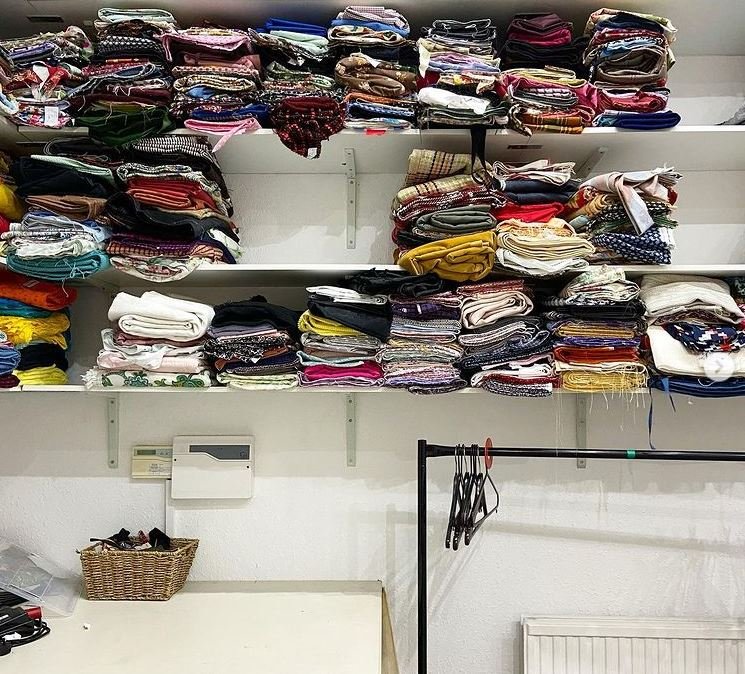 PAYING GARMENT WORKERS
Now, it should come at no surprise to you that garment workers overseas are paid next to nothing to produce the clothing we see on our high-streets within days of seeing it on a runway show. However, if it is, let me do some explaining. 
The fashion industry has been complicit in a system that pays its workers way below what is required to have a 'comfortable' existence in order to maximise its profits. To put this into perspective starvation wages are rife within the outsourcing of production: the average hourly wage of a garment worker in Bangladesh is $0.13. Bangladesh is home to four million garment workers, and many of them earn little more than the government-mandated minimum wage – which for the record is less than $100 a month. 
Not only do these workers, who are 80% women, get paid next to nothing for their labour, they are also subject to long hours, forced overtime, unsafe working conditions, sexual, physical and verbal abuse. This has been proven to still be true recently with a garment worker for H&M, in Tamil Nadu India, suffering at the hands of their own supervisor. (Trigger Warning: death and sexual violence. Instagram post with details can be found here). The whole of the fashion industry has been built on exploitation and complete lack of transparency which makes holding big fast fashion brands accountable very difficult. 
As if these conditions weren't bad enough, the COVID-19 pandemic has shed even more light on just how exploitative the fashion industry is. Global fashion brands refused to pay for over $16billion worth of goods since the pandemic began. Forcing garment workers overseas to fend for themselves, go without pay and in some cases die on the job because of lack of protection financially and in regards to PPE when working in cramped, unsanitary conditions.
Global brands such as Boohoo, New Look, River Island and Miss Guided came under fire in 2020 as they were discovered paying UK factory workers between £3 – £3.50 (the National Minimum Wage for a person over 25 is £8.72 (from 1st April 2020)) . In a Dispatches film, a factory boss in the UK was filmed saying "You won't get that here. That's what I'm telling you. We don't get paid much for our clothes, and we need to compete with China and Bangladesh. They can get it cheap there. How will they get it made cheaper here? If we pay everyone £10 or £6 then we will make a loss." It was then revealed that the reporter was paid around £3 an hour for work that involved labelling garments for River Island.
So, not only is fashion exploitative overseas, it is also exploitative here in the UK. 
Now that we know that many fashion brands across the globe pay minimal amounts for production it's clear to see why fast fashion prices are so cheap. So what makes ethical and sustainable brands different? Well firstly, they pay who makes their garments a fair living wage. This is just the bare minimum. Ethical brands also ensure that the working conditions of said workers are clean, comfortable and safe. In doing this, it incurs extra costs which means that clothing that has been made sustainably and ethically ultimately costs more than its fast fashion counter-parts. 
DON'T FALL FOR GREENWASHING
But what about conscious collections? They're affordable. So, can I just do my shopping there? We aren't going to tell anyone where they should and shouldn't shop. However, we can inform you of how these 'conscious' and 'green' collections that fast fashion brands are producing are greenwashing at it's finest. If you can buy something from one collection that has been made 'sustainably' and then put a classic t-shirt in your basket for £5 or less, you can almost bet that the particular store you are purchasing from does not practise sustainable or ethical practises, at all.
It's key to remember that although these high-street brands are producing a collection which may be using materials that are slightly better for the environment, they are still being made by garment workers overseas for minimal money and with no regards for their safety. As Venetia La Manna, a sustainability activist writes for The Independent, "Ultimately, the sheer amount of products H&M produces is causing irreversible harm to both planet and people, and completely outweighs their sustainability efforts,". This statement can also go for other highstreet stores, such as Zara and Topshop. 
Another thing to look out for is being misled into thinking that high-streets stores' clothes recycling programmes are an indicator that they are environmentally conscious. Speaking about an article on Marie Claire, writer, stylist and consultant Aja Barber – who speaks often on her Patreon about sustainable fashion – writes: "Who decided that H&M is one of the most sustainable ways of discarding old clothes besides H&M? Like honestly I think Terracycle would have something to say about that. But also many other experts (including myself) believe that H&M's recycling scheme is actually a marketing tool to get you into the store. Hence the coupon for a new purchase."
Have you ever noticed the purposeful placement of recycling bins in high-street stores? Not only does H&M offer this, but also Zara, M&S and & Other Stories (to name a few!). It's important to notice and realise when you are being subjected to greenwashing. Think of the bigger picture next time you're potentially being tricked into 'shopping sustainably' on the high-street. 
PLUS SIZE FASHION AND ACCESSIBILITY
Another big issue with pricing is accessibility and sizing. Sustainable and ethical fashion is still hugely exclusively accessible to straight-sized people. Whilst people who exist in bigger bodies are more often than not pushed out of sustainable and ethical spaces. Not only this, but high-street stores believed it was appropriate to charge more for larger sized clothing. It wasn't long ago that high-street brand New Look were accused of imposing a 'fat-tax' and were charging up to 15% more for clothes that were a UK Size 16 or above. 
Whilst it is easy to criticize high-street stores, it is also important to recognise that sustainable and ethical brands also tend to forget about their plus size customers. Marielle Elizabeth wrote an article for Vogue, "I was the fat girl emailing designers to ask them why their sizing all stopped at an XXL when they insisted their sustainably designed garments were here to save the planet. I wanted to save the planet too. I wanted to wear clothing that was consciously made." This kind of behaviour, and attitude towards those who are plus-size needs to be challenged by straight-sized people. If you are a sustainable and ethical brand then you also need to be working towards being inclusive. 
Sustainable and ethical brands, and the high-street stores need to be held to account on why they are not producing clothing that is accessible for all in their size ranges and this should never include pricing disparities across sizes. Our alumni marketing assistant Nyome, wrote a blog for Emperor's with some great tips on how straight-sized people can help educate brands on extending their size ranges and lessen the burden on people with plus sized bodies.
HOW YOU CAN MAKE SUSTAINABLE FASHION MORE AFFORDABLE
Now, of course, you are not going to convince a sustainable brand to lower their prices, and whilst we're here… nor should you! These people are actively working to create a fairer industry – for all. These artisans and creatives have spent a lot of time, money and effort to source fabrics that are high in quality and come from places that follow ethical practices. But there are ways you can become more conscious with your wardrobe and make careful considerations when it comes to purchasing clothes. 
Shop Second-Hand – it is true that you can find some gems on websites such as Depop, eBay and even Facebook Marketplace for clothes. After a long and hard break-up with fast fashion (which, may I add is still on-going), I have recently discovered the wonders of finding items that I love for half the price on Depop. Give it a go! (Though if you are straight-sized make sure you are buying clothes in your size range + not snapping up bigger sizes of vintage which are already hard to find)
Buy Better + Buy Less – using this mantra when shopping for fashion can make purchasing items that are a little more expensive seem more justified. So you've got 3 items in your basket of fast fashion items that cost £45. But how about aiming to shift your mindset into investment pieces. Use that £45 to buy one, good quality, ethically made and sustainable item that will last for years. This will make you feel good, knowing you've supported a small or independent business who is putting in the work to create a more ethical fashion industry, and you've gone and got yourself a brand new statement investment piece that will keep for seasons to come.
Payment Plans – choose to shop from retailers who offer payment plans so that you can shop more sustainably. At Emperor's we recognise that sustainable fashion prices can be a huge barrier for people who want to actively shop sustainably. We offer in-house interest-free payment plans of 2-6 months, to help make sustainable fashion more accessible and allow more of us to actively make a difference with our wardrobe choices. However, be wary of BNPL (Buy Now, Pay Later) payment options such as Klarna. Klarna acts as a bank, which ultimately means choosing this option will affect things like your credit score. Failed payments result in run ins with debt collectors, which is definitely not worth it for a quick fashion fix. If you'd like to read more on this topic we have a blog piece written, which you can find here.
It can be hard to justify spending lots of money on garments – especially now, in the middle of a pandemic where our pyjamas have had more wear than anything else we own…(or maybe I am speaking for myself here). It's important to remember why sustainable fashion brands are more expensive, and what that means for the environment and the people in their supply chains. Supporting these brands means you are supporting the livelihoods of everyone involved… rather than topping up the pockets of billionaire fast fashion CEOs – who, quite frankly have no interest in the welfare of anyone underneath them.
We hope this blog has helped you to understand why sustainable fashion is more expensive than what's in our high-street and online fast fashion stores. Here at Emperor's we aim to educate our audience and encourage mindful consumption when it comes to our wardrobes. 
Written by Ella Anais Gilchrist, edited by Cecily Blondel, Owner