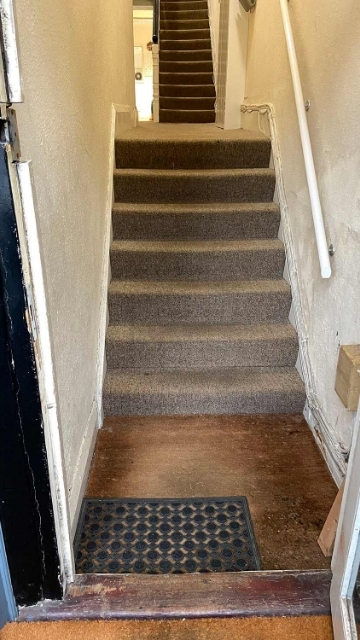 Unfortunately our building is not accessible for wheelchairs as there are steps into the building and has no lift.
Main entrance (pictured left):
Our studio occupies four floors: ground floor + basement, first floor rear + first floor front.
When entering the building there is an exterior door and an interior with a raised step. There are then seven stairs to reach the ground floor level with a handrail on the right as you are ascending.
Ground floor:
The cutting room and marketing office are on the ground floor level. Once you have reached the ground floor at the top of these seven stairs at the main entrance (with a handrail on the right as you are ascending) everything is on one level for this area and there are no more internal steps. We can do in-person fittings on this floor as required.
We have a back entrance to the studio with a pavement level entrance into narrow pathway (floor 68cm wide at it's narrowest point) which leads into the back of the ground floor of the studio via 3 stairs and two steep concrete ramps. (Photos and more access information available on request).
First floors:
Our sewing rooms and office are located on the first floor rear and first floor front levels. Our sewing studios and office are accessible via a staircase of 14 stairs (pictured right) with a handrail on the left as you are ascending and then:
North sewing room and office – there are two internal steps up to the room (no handrail) and then everything is on one level for this area.
South sewing room – there is a further staircase of 7 stairs to reach this room with a handrail on the left as you are ascending. This is where all our fabrics are stored. We are also happy to bring selected fabrics downstairs to the ground floor as required.
Toilets:
There is one toilet in the basement which is 15 steps down from the ground floor with a handrail on the left as you are descending the stairs.
There are also four toilets on the second floor rear – this is a further steps from the North sewing room with a handrail on the left as you are ascending the stairs.
If you would like any further information about our studio accessibility please get in touch.
GETTING TO EMPEROR'S HQ
Our studio is located in Hove. Here is the address:
Linkline House, 65 Church Road, Hove, East Sussex BN3 2BD
GETTING HERE BY TRAIN
The studio is approx a 15-20 minute walk to Hove train station and approx a 30-40 minute walk from Brighton train station. There are taxi ranks at both train stations: at Hove station it is in the centre of the road leading up to the station outside the station's front entrance.
At Brighton station the taxi rank is at the rear of the station (go through the ticket barriers and turn left and follow the walkway to the back station exit.
You can also get the number 6 bus from outside the front of Brighton station which takes you almost outside the studio (get out at the 'Second Avenue' stop) and takes approx 20-25 minutes. You will then need to cross the road and head towards the Fatto a Mano pizzeria on the corner – our entrance is next door.
COMING BY CAR?
Parking information:
Unfortunately we don't have any dedicated parking spaces. There is on-street parking in the roads around the studio.
Parking zone N:
According to the Brighton + Hove Council website: if you have a Blue Badge, you can park in pay and display bays in this zone for free for as long as you need to. You must have your Blue Badge on display
If you do not have a Blue Badge these are the rates:
1 Hour £1.40
2 Hours £2.80
4 Hours £5.50
11 Hours £7.60
We hope this helps you plan your visit to Emperor's HQ – if you have any further questions please get in touch + we'll be happy to help.
Please note: excluding during open days in-person studio appointments are by appointment only. Please get in touch to book in with us.