The time has come to share with you our 'Shop Independent Holiday Gift Guide' for 2020
It's officially November and here at The Emperor's Old Clothes we are beginning to think about what we are going to gift to our friends + family this holiday season. As a team, we are passionate about supporting small and independent businesses and believe that this is the way forward in supporting fellow artisans and creatives. ⁠
⁠
This year has been tough in a multitude of ways, and it is vital that we support businesses that pay the UK living wage and support their team all-year round. Whether that's focusing on their personal development, encouraging creativity and expanding on their current skill-set – these are the individuals and businesses we believe need our support. ⁠
⁠
Not only will you be supporting local talent, you will also be buying from people who care about the environment. Gifting from the high-street often means you will be purchasing mass-produced, low quality items that are damaging to our planet and have been created using exploitative working conditions. ⁠
⁠
We've had so much fun collaborating with independent brands who share the same ethos as us – we hope our 'Shop Independent Holiday Gift Guide' for 2020 inspires you to be more mindful of where you spend your money this holiday season. ⁠
⁠
We've curated amazing products that range from clothing, homewares, cosmetics, jewellery and more. We hope you love these products as much as we do!⁠
GMMRS
Created by Gemma Rose in 2017, GMMRS is run independently in Norwich, UK. Their amazing cotton knits are inspired by the weird and wonderful patterns and colours of fun vintage and retro fashions. Each garment is knitted on a 1980's domestic machine and hand linked/sewn together to finish them off.
Size range: XS – XXL | Prices from: £20 – £125. Find Gemma's work here.
SOCKO
After discovering that her job satisfaction came from being able to connect with what she had done with her working day, Emma's dream of Socko began. Handmade in the UK, Socko supports local businesses by paying fairly for the skills of British craftspeople. Each pair is made in a factory in Leicestershire which has been in the sock business since the 19th century. Sourced from mills around the UK, each item is made from repurposed yarn that would otherwise have ended up in landfill.
Size range: S – L | Prices from: £20. Find Emma's work here.
Meera wears Pure Wool Cardigan £175 by Aja x Lora Gene paired with The Emperor's Old Clothes Pink Heart Print Pencil Two-Piece UK 10-12 £119
TYYNI STUDIO
Tyyni Studio was created by Amy, who works with abstract painting to explore their own joy and is motivated by the search for a positive mental state. Having struggled for many years during college and university with conforming to a brief and the need for there to be a narrative behind their work, Amy now paints as an antidote to this. Amy has found a way of expressing their feelings and emotions in a visual form.
Prices from: £25 – £400+. Find Amy's work here.
ELLA BULLEY STUDIO
Based in London, Ella Bulley is a Material Designer who creates work that frequently crosses the realms of textiles, product, art and set design. Using contextual research and material experiments intersected with artisan techniques to direct their design approach, Ella creates beautiful homeware and clothing collections.
Prices from: £20 – £175. Find Ella's work here.

Sienna wears The Emperor's Old Clothes  Blue Circle Two-Piece Size UK 12-14. Get in touch to purchase.
Ella Bulley Large Waakye Plate £95
YUK FUN
YUK FUN was founded in 2014 by Lucy Cheung and Patrick Gildersleeves, who met at Leeds Met University studying art and design. YUK FUN creates their work from their home studio in Portslade-by-Sea where they screen print, make garments and draw. All YUK FUN's items are made in small batches and they personally wear and use them everyday.
Prices from: £2 – £210. Find YUK FUN's work here.

Sienna wears Cherry Wiggle Jumper by GMMRS £105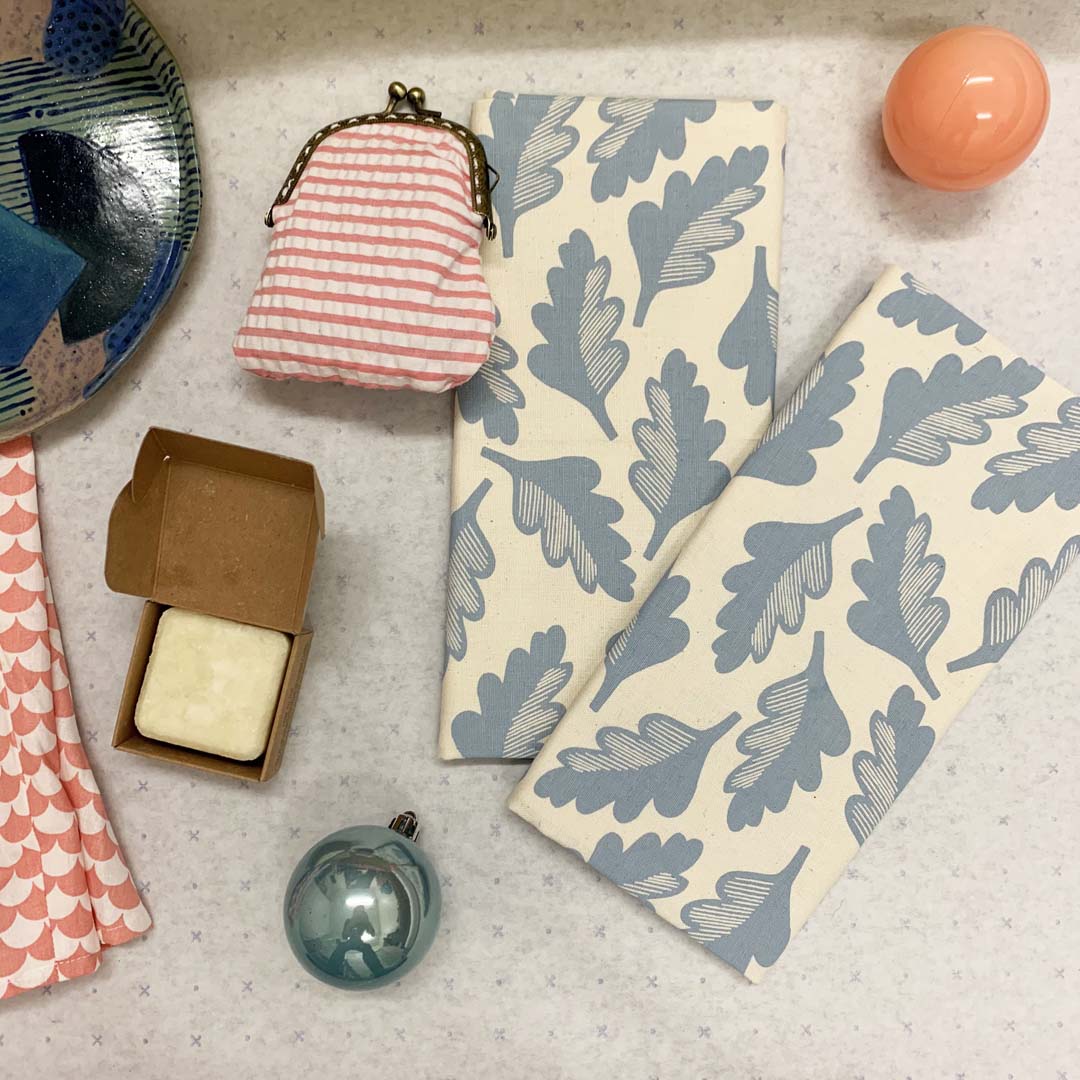 ARIANA MARTIN DESIGN
Inspired by 20th Century pattern, Ariana works closely with several small UK manufacturers to produce her stationary and homewares. Based in Sheffield, Ariana's items are available for wholesale and in their online shop.
Prices from: £1.95 – £12. Find Ariana's work here.

Maxxie wears The Emperor's Old Clothes High Waisted Blue Trousers 'Provencal Prize' UK 26-28 and is holding Ariana Martin's Pocket Floral Notebook A6 £3.75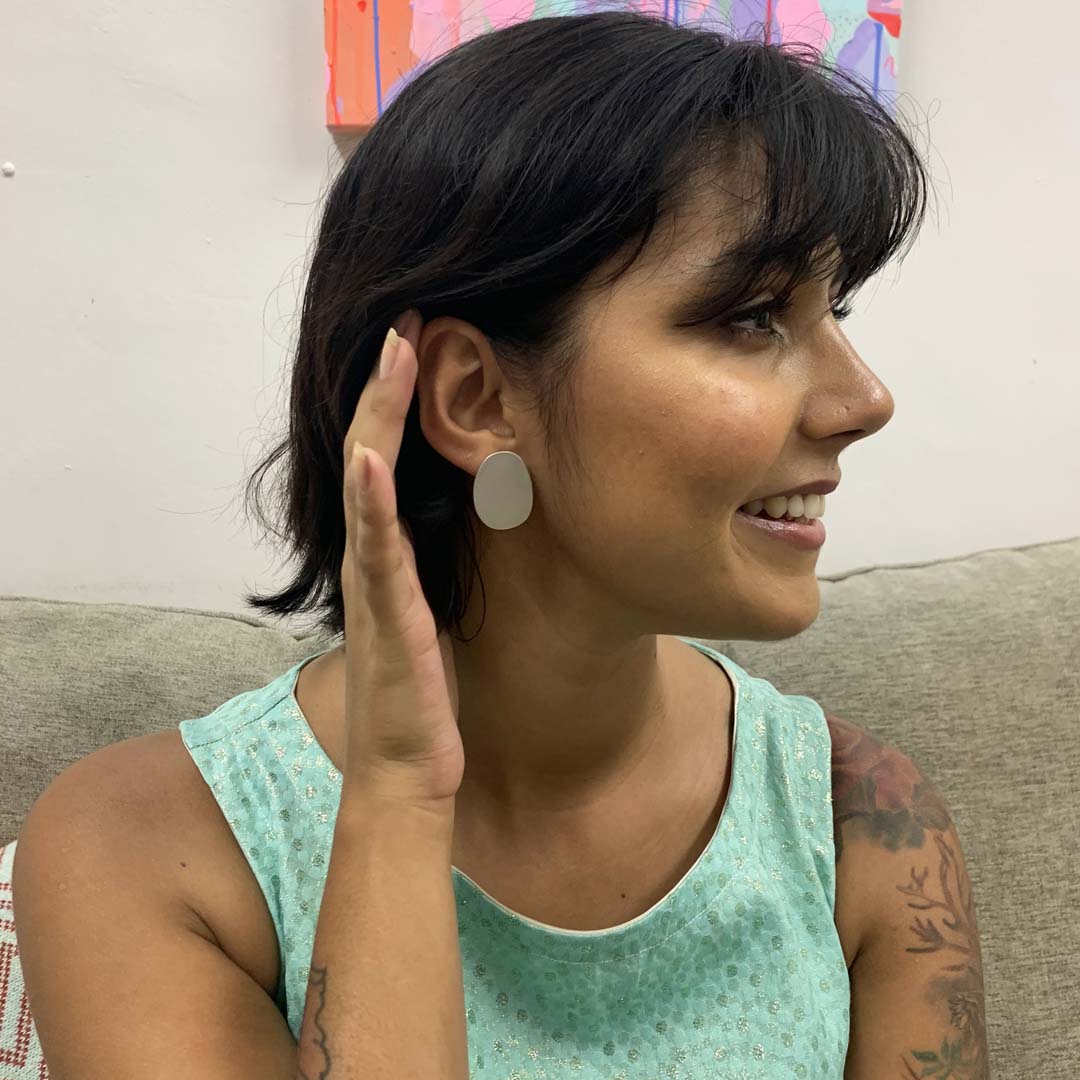 Meera is wearing The Emperor's Old Clothes Mint Circle Two-Piece UK 10-12 – get in touch to purchase. Meera is also wearing Sterling Silver Matte Organic Shapes by Studio Adorn £56
STUDIO ADORN
After travelling around the world, Bonnie Doonan founded Studio Adorn when she returned back home to Norwich and began making jewellery from her kitchen table. With a background in interior architecture, the combination of Bonnie's two passions merged to make Studio Adorn what it is today.
Prices from: £14 – £170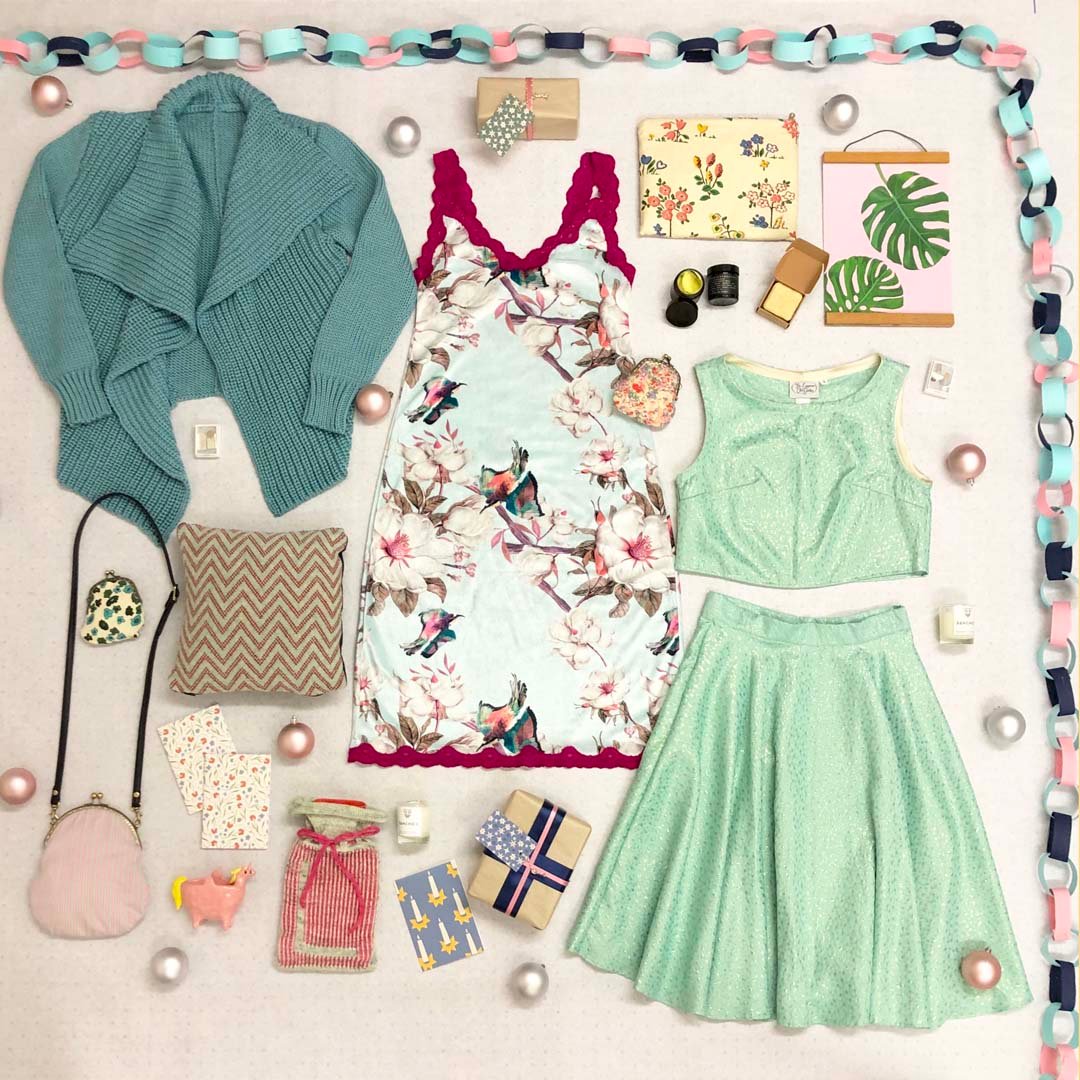 Sienna wears The Emperor's Old Clothes 'Take Flight' Dungarees UK 12-14 – get in touch to purchase. Sienna is holding a Personalised Knitted Hot Water Bottle Cover + Bottle by Mei Mei Designs £30 and is sat next to Large Pink and Pink Polka Dot Cushion £55 and a Small Zig-Zag Knitted Cushion in Pink and Light Pink £32 by K.Moods.
MEI MEI DESIGN
Mei Mei is a textile design studio based in South West London which creates colourful and bright textiles inspired by our everyday surroundings. Mei Mei was founded by Mei Sim, who after experimenting with textiles specialised in knitted materials are Chelsea College of Arts. All the products made by Mei Sim, are made from 100% natural materials, where possible organic and not a man-made thread in sight. None of the yarns used in Mei Mei's studio are chemically treated before the dye process and their yarns are never produced from farms that practise mulesing.
Prices from: £12 – £50. Find Mei Sim's work here.

Meera wears Sterling Silver Contrast Ear Jackets £62 by Studio Adorn. Meera stands in front of work by Tynni Studio wearing The Emperor's Old Clothes Pink Polka Dot Skater Dress UK 10-12
GLAD & FRANK
Glad & Frank is a Brighton based luxury nightwear brand. Made with love and expertise, they are hand dyed and fabrics are British sourced where possible, with Nottingham Lace. There are two lengths of nightie, short or just below the knee and they currently come in a UK Size 8-20 – however, they can also be made to order on request if other sizes are required.
Price: £120 | Size Range: UK 8-20. To purchase, contact Camilla here.

Sienna wears The Emperor's Old Clothes 'Take Flight' Dungarees UK 12-14 – get in touch to purchase. Sienna is holding a nightgown handmade by Glad & Frank £120 – made to order via email.
SANCHO'S
Sancho's is a sustainable and ethical fashion + lifestyle shop which was founded in 2014 by Kalkidan + Vidmantas. Sancho's was inspired by Kalkidan's and Vidmantas' travels to countries such as Ethiopia where they saw first hand the effects of the fast fashion industry. Based in Exeter, they curate ranges ethically made for their customers who value people and the planet above profit. Sancho's aim is to give people an affordable and sustainable option, to educate about sustainability and to create a space of learning, creativity and collaboration.
Prices from: £4 -£185. Shop their online store here.
THE WILD TOGETHER
The Wild Together was founded by Robyn Ford, after a failed search for a transparent, organic and high-performance skincare brand. The Wild Together was created to provide the highest efficacy, quality and purity – and all made from sustainable, fine and nutrient-dense plants that have been expertly designed by science.
Prices from: £12 – £229. Find The Wild Togethers products here.

Meera wears The Emperor's Old Clothes Pencil Two-Piece UK 10-12 – get in touch to purchase. Meera is holding The Moisturiser by The Wild Together £58.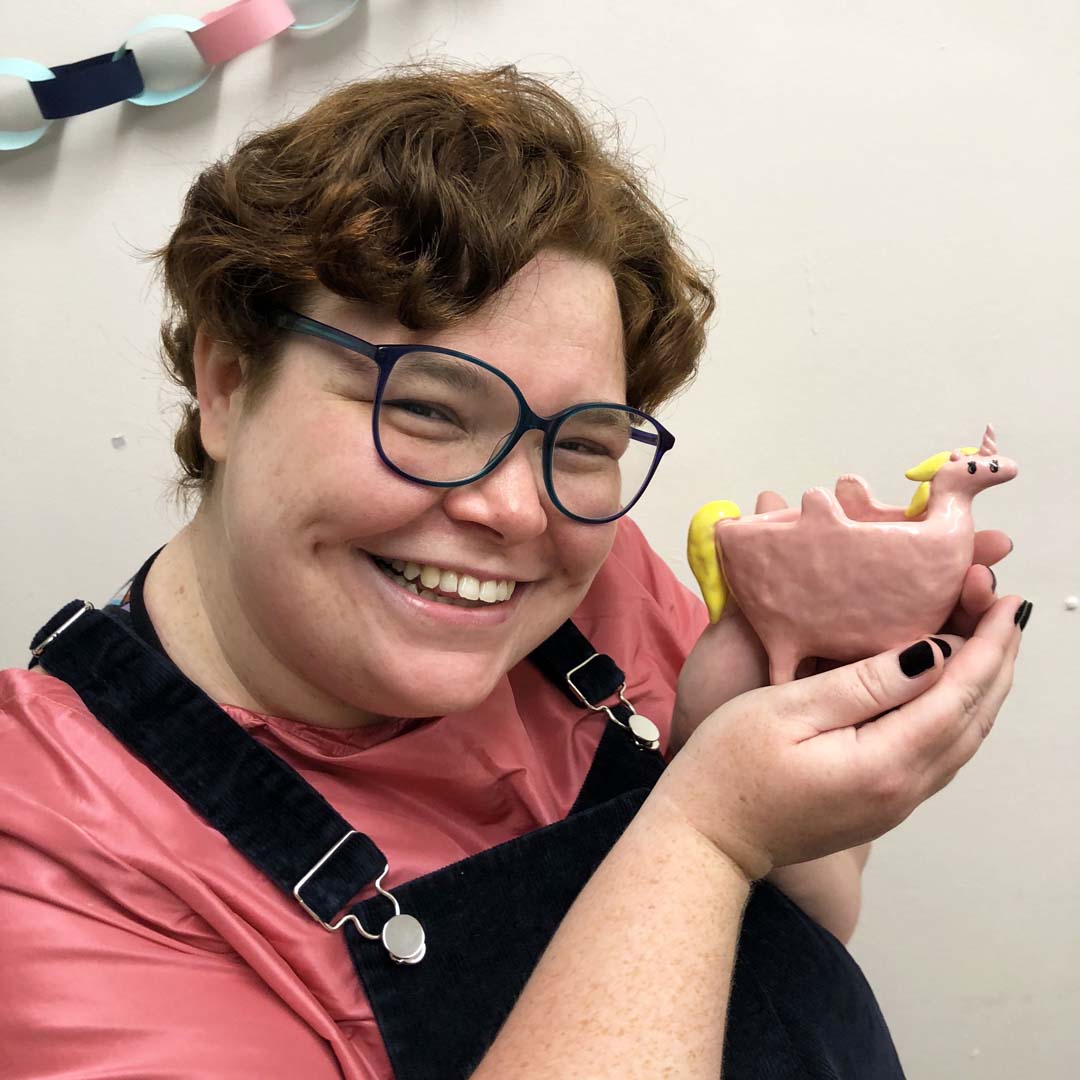 Maxxie wears The Emperor's Old Clothes Custom Dungarees paired with a Cropped Top from our 'Sugar Plum' Pink Circle Two-Piece UK 26-28 £129. Maxxie is holding a handmade Unicorn Planter by LumpyUnicorn £46.
LUMPY UNICORN
Lumpy Unicorns are lovingly handmade ceramic planters, each one sculpted by hand and delicately glazed with bright colours and details. They are cute miniature sizes and can perfectly fit in your favourite succulents and cacti. Louise Smith, the creator and founder of Lumpy Unicorn can take custom orders, so if you have something in mind you can contact their shop with your wishes and desires.
Prices from: £1.80 – £75. Find Louise's handmade products here.

The Emperor's Old Clothes Brown Floral Playsuit UK 22-24 – get in touch to purchase. The Emperor's Old Clothes Black and Gold Cotton Handbag £38. Botanical Kraft Greetings Cards by Izzie Artisan 4 x £11.50 or 8 x £20
LOVE REMS
Created four years ago, LoveRems was founded as a result of the founders experience with eczema. LoveRems is a natural skincare brand based in the UK, which produces natural and chemical free skincare for all skin types. All their products are made using pure ingredients provided for us by mother nature.
Prices from: £3.50 – £40. To shop LoveRems, find their online shop here.

Maxxie is modelling the Footcare Spa by LoveRems £17.50

Sienna wears The Emperor's Old Clothes Blue Circle Skirt Two-Piece UK 12-14; knitted cushions by K Moods from £32.
K MOODS
K.Moods was created by Kathleen Moodie and is based in Edinburgh, Scotland. Each K.Moodie piece is made by hand on a domestic knitting machine in their studio based in the creative hub, Summerhall. Kathleen creates textiles that are sustainable and comfortable, while designing with zero-waste and along the slow fashion ethos.
Prices from: £9.50 – £55. Shop Kathleen's knitted wares here.

Maxxie wears Water Lily Earrings Gold Vermiel by Izzie Artisan £85
IZZIE ARTISAN
Using recycled materials, Izzie Artisan creates beautiful botanical style jewellery and interiors. Not only does she create jewellery using recycled silver and gold vermeil, she also creates greetings cards and prints for your home.
Price range: £3.25 – £179. Find Izzie's work here.

Sienna wears Leaf Circle Necklace Gold Vermeil by Izzie Artisan £89
AJA BARBER X LORA GENE
Aja's capsule collection with Lora Gene features the most amazing, chunky oversized knitted garments. Hand knitted in Bulgaria with wool sourced from some of the finest Italian mills, each item is hand knitted exclusively for you. The range comes in a variety of colours and comes in sizes UK 0-28.
Size Range: UK 0-28 | Prices: £10 – £459. To shop Aja's collection visit Lora Gene's website here.
ABIGAIL ROSE CREATIVE
Abigail Rose has been making bespoke art and crafts for years. After making them for friends and family she decided to open her shop and share her creativity! Abigail's shop features embroidery kits, silhouettes, wreaths, bunting and calligraphy ready to help you get creative.
Prices range: £4.50 – £90. To shop Abigail's crafts find her shop here.

Meera is wearing The Emperor's Old Clothes Brown Floral Pencil Two-Piece UK 10-12 – get in touch to purchase. Meera is holding a Personalised Initial Embroidery Ring by Abigail Rose £35

Meera is wearing The Emperor's Old Clothes Brown Floral Pencil Two-Piece UK 10-12 – get in touch to purchase. Meera is holding a Robin with Mistletoe Embroidery Kit by Abigail Rose £20
ANTAKARANA THREADS
AK Threads was built upon their philosophy of slow, considered living with a commitment to sustainability. They align traditional practices with modern designs to create essential wardrobe pieces that are accessible.
Prices: £7 – £180. Shop AK Threads here.

Handwoven Organic Facemask by AK Threads £7 or 2 for £13. The Emperor's Old Clothes Yellow Floral Wide Leg Trouser Dungarees 'Meadow' UK 6-8. Multipack of 4 Christmas Cards Pack of 4 – £7.49 (also available individually at 2.50 each) by Ariana Martin.
LUCKY SEW + SEW
Carly and her Mum, Diane founded Lucky Sew and Sew in 2014. Together they design, test, sample, source, pattern cut, size grade and stitch all their packages and made-to-measure pieces. They believe that everybody deserves perfect fitting lingerie and swimwear and decided to throw out standard size guides and create everything to SIZE:YOU. Not only this, but they also use surplus stock from factories and designer line ends and fast fashion left-over fabrics to create their pieces.
Prices from £5 – £55 | Made to your size. This collection is about to drop very soon so follow them or get on their mailing list to be in the know!

Personalised Knitted Hot Water Bottle Cover + Bottle by Mei Mei £30
ZERO WASTE PATH
Created by Bianca + Giulio in February 2018, Zero Waste Path really cares about finding the best natural ingredients and using the most sustainable possible plastic free packaging. Zero Waste Path don't outsource anything and Bianca + Giulio manufacture all their products in their workshop. They carefully select their suppliers and take care of every aspect of what they do – this is because they prefer to have direct control over as many aspects of their company. Profits are spent in a responsible way with a focus on sustainability, human and animal welfare.
Prices from: £3 – £19. Shop Zero Waste Path's shop here.

2-in-1 Solid Shampoos by Zero Waste Path £7.50

Terracotta Print Ritual Longline Bra £45, Terracotta Print Ritual High Waisted Bottoms £18, (Set is £59) by Lucky Sew and Sew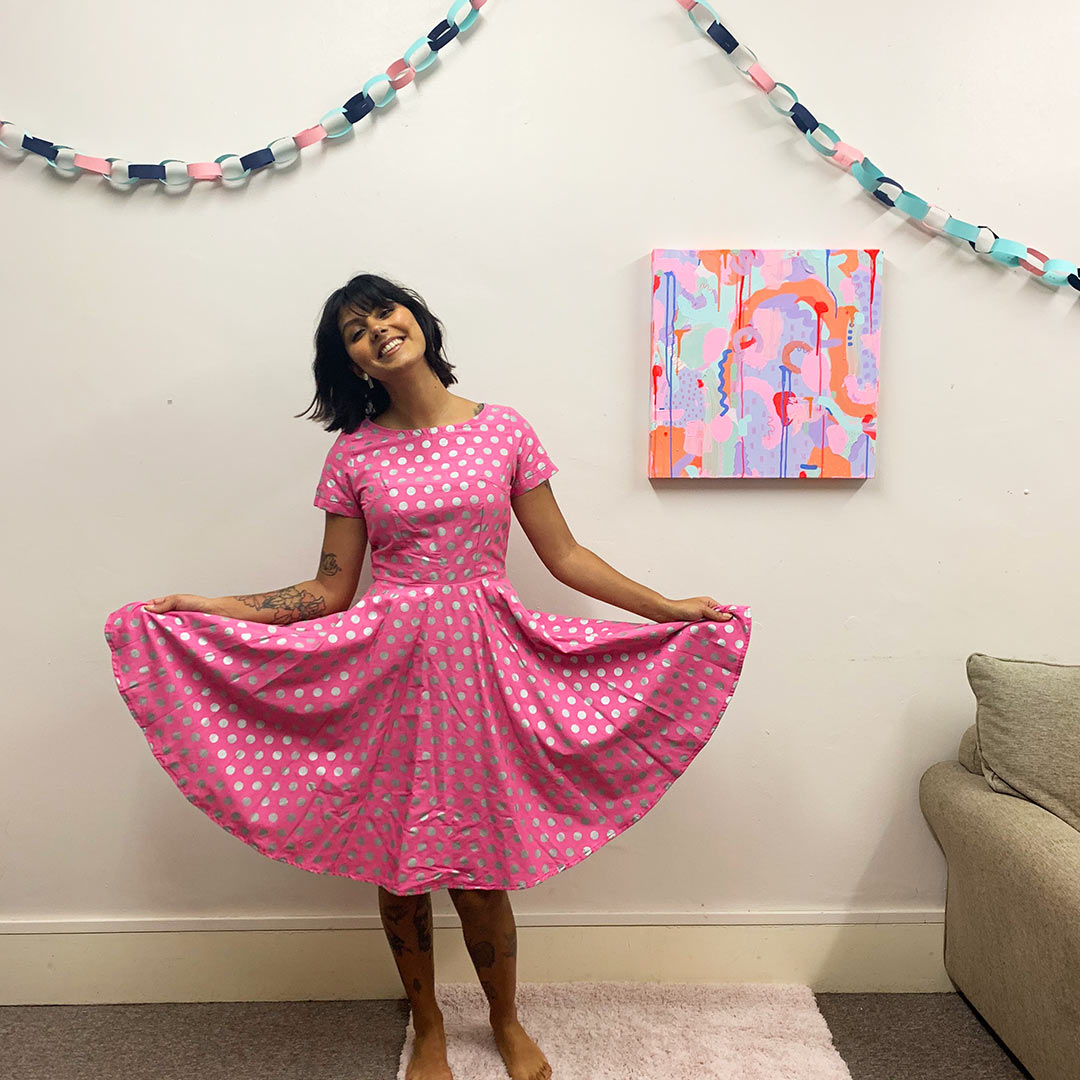 THE EMPEROR'S OLD CLOTHES
And of course there's us! As many of you will know we create one of a kind clothing + accessories from vintage + dead-stock fabrics with a design your own service and ready to wear collections for a UK living wage in Brighton + Hove, UK. Our order deadline for design your own clothing for pre-Christmas delivery has passed but you can design your own accessories, purchase our ready to wear pieces + treat your loved ones to gift vouchers here.
Sizes UK 4-6 – 26-28. Prices from £12-£200+
We hope you've enjoyed this year's guide and have discovered lots of new brands to buy from this holiday season!
CREDITS
Models:
Meera Solanki @meeraroses – Pronouns – She/Her
Sienna Chandler-Moore @schandlermoore – Pronouns – She/Her
Maxxie Lovecraft @maxxielovelace – Pronouns – They/Them
Gift Guide photographed + created by Ella Gilchrist + Cecily Blondel at The Emperor's Old Clothes
Gift Guide curated by Nyome Nicholas Williams + Cecily Blondel at The Emperor's Old Clothes