As many of us will know (well plus sized people do, and straight sized people who acknowledge their privilege in being thin) the accessibility to sustainable/ slow fashion is significantly lower for those of us that exist in bigger bodies.
I touched on this subject when I wrote my piece on the link between being plus sized, sustainability and financial accessibility.
I find that there is often a link between brands that claim that they are sustainable and ethical but who aren't being inclusive: plus sized bodies are not being included in the sustainability conversation or clothing that is catered to us. An issue arose recently with Aja Barber being subjected to a plethora of abuse from a medium sized brands cult following (Lucy and Yak) after calling them out and asking for accountability after they had continually refused to acknowledge plus sized bodies existing however would constantly post on their page that they were making changes. The performativity of their actions is common in some small sustainable brands founded and run by thin white women.
Plus sized bodies aren't commonly accepted into sustainable or slow fashion spaces as this would involve the extending of size ranges. When we do choose to speak up about the issues we are often gaslit and made to seem as though our request for accountability and inclusion is unfounded and that we are wrong to ask for accountability.
It is not the responsibility of plus size people to educate these brands and create this change, it is the responsibility of brands choosing to take up space in the marketplace to behave ethically – the onus should never be on us. Whilst there are plus sized activists and models that I am able to name that do the work and educate brands that are in the sustainability business to do better if they are falling short of the mark and they do this in the right way, very few are actually heard or listened to by brands.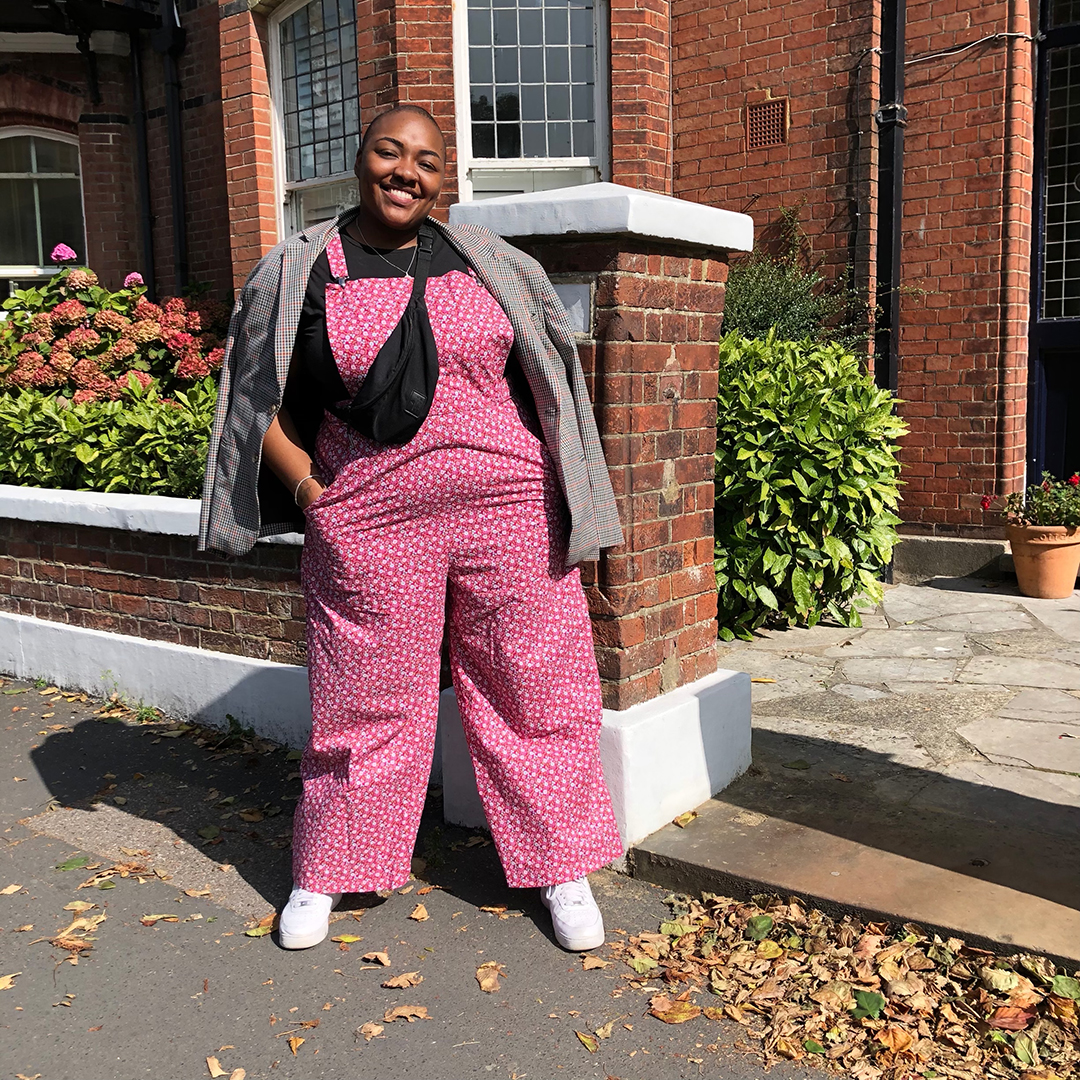 Aja Barber, Michelle Hopewell and Marielle Elizabeth are three plus people that take the time to enlighten those who have just begun their journey into slow fashion but also are able to hold anyone to account that takes up space in positions of power not meant for them:
Aja Barber
"What Does Accountability Look Like For Ethical Brands. It looks like owning up to your past fatphobia before you hold the fatphobia microphone".
(Image taken by Zsuzanna Palmai)
Michelle Hopewell
"Let's just admit that a fully sustainable lifestyle has an economic and class label on it"
Marielle Elizabeth 
"
Size 20 IS NOT REVOLUTIONARY Why are we acting like it is? It's the bare minimum, that at this point anything less from a brand of your size is openly fatphobic. When we champion brands for "daring" to expand to a size 20 we are setting the bar of what size inclusive looks like"
(Image by Lydia Hudgens)
I struggle to find small brands (sustainable + ethical) that firstly provide clothing that will fit me a UK size 22 and that secondly will be fashion forward. As a consumer it is not very inspiring of confidence when I am only able to think of a handful of brands that are UK based and provide clothing options for me. 
I thoroughly believe that the conversation surrounding plus sized bodies and sustainability has come up in conversation and is now a heightened discussion due to the fact that 2020 has been incredibly heavy on Black people as a whole. With the Black lives matter marches, protests and conversations being at the forefront of everyone's mind the need for people to speak up about Black plus sized bodies to be included in ALL conversations seems like it is a task that non-Black people are now being forced to participate in. It feels very bittersweet for me personally as if the awful events of this year had not occurred there would be no conversations of including plus sized bodies into the sustainability world.  
This is a subject that is far from being a new issue, the concerns are just being brought up more currently as plus sized people want more in the way of inclusion. I include myself in this. I very much would like to be able to shop small and be able to find pieces that fit me and that have longer wearability/durability and that are staple pieces for my wardrobe that I could wear /restyle and rework. 
There are many layers to any conversation surrounding sustainability, plus sizes and brands extending sizes. Some small brands that extend their sizes ranges have been known to carry up to size 20-22 and name themselves as a size inclusive brand, going up to a size 22 is not inclusive of all body sizes. When brands are asked for accountability by activists, models etc and to address their internalised fatphobia surrounding not extending sizes or when they do not expand enough the stance some small brands take is that they are being attacked, when in actuality they are being given a generous opportunity to do better. We need brands to actively educate themselves and work on their fragility.
How can you help?
 Straight-sized people:
Ask brands to extend their size and send resources to help educate them to lower their burden on people in bigger bodies

Champion brands who are doing better to help support their work

Engage in conversations about fatphobia and accessibility with other straight-sized people
Self-care for people in bigger bodies
Only engage with brands and with accounts on Instagram that make you feel good about yourself

Don't ever feel like you have to engage in conversations that are or can be triggering 

Do and wear what feels right to you
Written by Nyome Nicholas-Williams (Emperor's alumnus)